IPATS
The Irish Paediatric Acute Transport Service (IPATS) serves approximately 1.1 million children within the Republic of Ireland by providing support to hospital sites that provide acute care to infants, children and adolescents.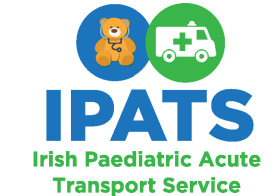 IPATS supports the transfer of critically ill infants and children (aged 4 weeks to 16 years) from a referring hospital to the Paediatric Intensive Care Unit (PICU) in Our Lady's Children's Hospital Crumlin or Temple Street Children's University Hospital.
Our team consists of dedicated specialised Doctors and Nurses working within the 2 of the Children's hospitals, Our Lady's Children's Hospital Crumlin, Temple Street Children's University Hospital. The IPATS team work in collaboration with the National Ambulance Service to deliver the service.
We aim to provide the highest quality of paediatric intensive care from the time of referral to handover in an intensive care unit, ensuring we facilitate the right patients receiving the right care in a timely manner.
Through our active education and outreach programme, we also aim to support and enable the delivery of high quality intensive care by local transport teams outside the hours of operation of IPATS.
Our vision is to provide a 24/7 service with the addition of clinical fellows and advanced nurse practitioners to further enhance our service delivery to the children of Ireland.
National Clinical Lead for IPATS Dr Cathy Gibbons cathy.gibbons@hse.ie
National Retrieval Co-ordinators Ms Lorraine Heery lorraine.heery@hse.ie Ms Isabel Flanagan isabel.flanagan1@hse.ie